The Queen's Dance, Deluxe Celebration Edition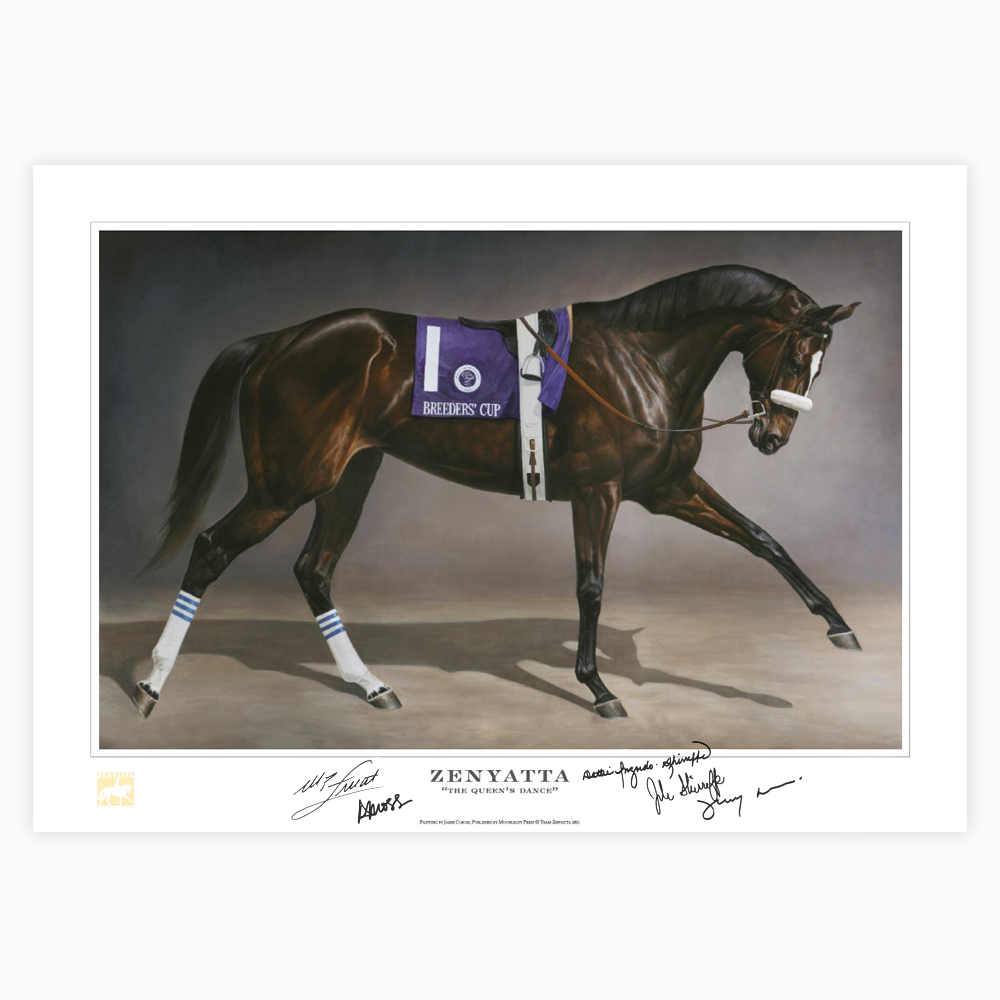 The Queen's Dance, Deluxe Celebration Edition
This special edition of our popular The Queen's Dance poster features a gold "Zenyatta Celebration" seal on the bottom left corner.
We have a limited number of these posters signed by Zenyatta's whole team!
Signatures:
Zenyatta's owners, Jerry and Ann Moss
Zenyatta's trainer, John Shirreffs
Racing manger and voice of Zenyatta, Dottie Ingordo-Shirreffs
Zenyatta's Hall of Fame jockey, Mike Smith
It has been called "spectacular" by Mike Smith, "breathtaking" by Ann and Jerry Moss, and "magnificent" by the man who knew Zenyatta best, John Shirreffs. "The Queen's Dance," by acclaimed equine artist Jaime Corum, is an original life-sized painting produced using the precise measurements of Zenyatta at the peak of her racing career. This extraordinary image, unveiled at the 2011 Breeders' Cup Zenyatta Celebration, is certain to hold a spot as one of the pre-eminent equine portrayals of the decade and is now available in a sensational poster release.
Corum's classic portrayal of Zenyatta captures the mare in all her grace and majesty that inspired her affectionate moniker "The Queen" and features her characteristic high-stepping dancing routine renowned to her legion of admirers. Corum's subtle use of light and shadow accentuates the rippling musculature and dappled dark mahogany coloring of the strapping champion shown in the racing tack from her first Breeders' Cup appearance, a powerful victory in the 2008 Ladies' Classic.
Printed on archival museum stock, the striking yet affordable poster measures an impressive 20″ x 28″.
For shop policies and shipping information, click here.
sold out